Dr Cristyn Davies has made the wellbeing of young people the focus of her work for more than a decade. As a researcher, she has worked alongside young people to explore better approaches to supporting youth health. And as Board Ambassador of the LGBTIQA+ youth support service Twenty10 she has been tireless in her efforts to advocate for the rights of trans and gender diverse young people.
In 2019, Cristyn was one of two Australians chosen by the Department of Foreign Affairs and Trade to speak at the 41st United Nations Human Rights Council Session in Geneva, Switzerland. In her address, she called for better access to culturally safe healthcare for trans and gender diverse people; an end to conversion 'therapy'; the removal of exemptions that allow religious schools and universities to discriminate against LGBT students and teachers; and the uptake of a human rights-based approach to data collection for LGBT people. She also advocated for action and adequate resourcing to address the high rates of cervical cancer in Aboriginal and Torres Strait Islander women.
This year, Cristyn completed her PhD work on HPV vaccination, and received the welcome news of an ARC grant for her research project Gender Affirmation in Childhood: Protective Factors and Strategies, led by Professor Kerry Robinson.
With these important milestones behind her, we asked Cristyn to reflect on what she's learned so far, and what comes next.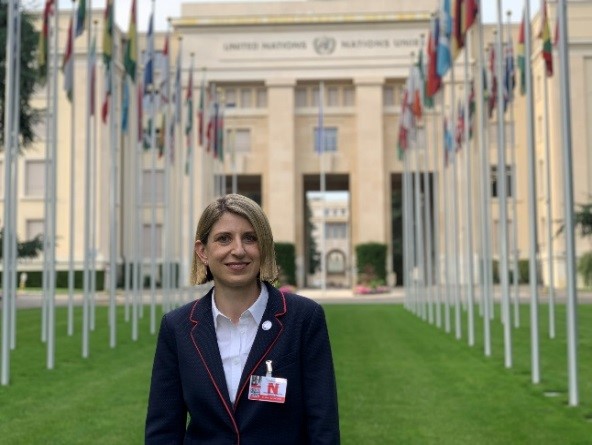 Your body of work encompasses research into child and adolescent health and development, LGBTI health, discrimination and violence, women's sexual and reproductive health, and vaccination. What do you see as the throughline between these areas of interest?
The throughline is the pursuit of health equity, diversity, and inclusion. Health equity is about eliminating the unjust health disparities that are shaped by the social determinants of health – in other words, the conditions in which we are born, grow, work, live, and age, and the systems that give rise to these conditions, such as economic policies, social norms, and political systems. 
To address my goals in health equity, diversity, and inclusion, I engage in health and human rights governance, advocacy, and community engagement to help ensure that the evidence from high-quality, robust research is used to support health decisions, policies, and practices.
What do you look back on as the starting point of your career?
For many years, I have worked to improve the health and wellbeing of gender and sexuality diverse young people.  There is still much more research needed in this area, particularly longitudinal studies and studies that employ up-to-date and robust data collection methods, but ten years ago it was clear to me that very little work was being undertaken to translate high-quality and ethical research into policy and practice. This is called the research-practice gap. 
In 2012 and 2013, I was involved in a cross-sectional study called, Growing up Queer, which focused on the health, wellbeing and educational outcomes of young gender and sexuality diverse people. The research was undertaken in partnership with a community-based non-government organisation called Twenty10, which offers housing, psychosocial support, case management, health, and legal clinics to LGBTIQA+ young people. I decided to start volunteering for this organisation and was eventually elected co-chair of the Board. This enabled me not only to govern the organisation, but to ensure that my research, and the research of others, was used to inform policy and practice. Research translation is exciting if time-consuming work.
Do you see any signs of progress in the time that you have been involved in this work? 
In Australia, there is a positive change in LGBTQ+ health policy. For example, we now have the NSW LGBTIQ Health Strategy 2022-2027 in New South Wales, and a federal commitment to an LGBTIQA+ Health and Wellbeing 10 Year National Action Plan. Gender and sexuality diverse community members and non-government organisations (NGOs) have, for many years, advocated strongly for culturally safe health services, and ethical and community-led research, policy, and practices. People from marginalised or minority communities with lived expertise, such as those who are gender and sexuality diverse, must be at the centre of health decision-making that affects their lives. There is still much work to be done to educate the health workforce in LGBTIQ+ health, and to ensure that education and training are adequately resourced in universities, and other education and health settings.
 
You've recently completed a PhD. What were the high points and low points of that journey?
The high point of doing a PhD was immersion in one topic area—HPV vaccination. This enabled me to build expertise in developing, implementing, and evaluating a complex intervention to promote young people's knowledge about HPV vaccination, improve their vaccination-related psycho-social outcomes (including reducing needle-related fear and anxiety) and increase vaccination uptake. Other high points included co-designing the education intervention with vaccine-eligible young people to ensure it was relevant to them, and engaging with other key stakeholders such as health and education experts. I had a fantastic supervisory team which included Professor Rachel Skinner, Associate Professor Melissa Kang and Professor Kristine Macartney, and the investigators on the grant, led by Rachel, were incredible.
 
Low points included working full-time for some of my candidature, which meant I had very little free time. Also, my candidature overlapped with the COVID-19 pandemic and associated lockdowns, and my workload increased. I worked with my colleagues in the WH&Y CRE and the NSW Health Ministry COVID-19 Strategic Communications Unit to co-design youth-specific messaging on mental health, infection control behaviours and vaccination. It was wonderful to share my vaccination expertise and co-design effective messaging with and for young people–even if it meant I was always working.
What stands out as something you learned as part of the PhD process?
Developing partnerships with the communities that are being researched is imperative. Whether you are working with young people, LGBTIQ+ communities, or health professionals and educators, co-designing research from inception to dissemination is so important. It contributes to better research outcomes and translation.
 
Looking ahead, what do you see as the priorities and the challenges of the areas in which you work?
I recently discovered that, with my colleagues, I was successful in receiving an Australian Research Council (ARC) Discovery Grant to research protective factors and strategies to support the health and wellbeing of trans children and young people aged five to 16 years. The provision of culturally safe and affirming healthcare for trans young people is a priority. The grant is led by Professor Kerry Robinson and includes Professor Rachel Skinner, Dr Sav Zwickl and Dr Justin Canty. Our team includes some chief investigators with lived expertise. It is innovative methodologically for the inclusion of arts-based methods with children, and multiple perspectives from trans children, peer allies, parents, healthcare professionals and educators. Trans young people are a rapidly growing population, disproportionately affected by intentional self-harm and suicidality. The project expects to generate new understandings of gender, the lived experiences of trans children and families, and protective factors in their lives. Significant benefits should be informing theory, policy, and early interventions and co-development of resources for key stakeholders.
 
I'm also very excited to continue my vaccination research. I have been researching the acceptability and usability of vaccine 'patches' to deliver vaccines to the outer layers of the skin. Compared to vaccination with an intramuscular injection, the potential benefits of vaccine patches include reducing the pain and fear of the hypodermic needle; reducing needle-stick injuries and 'sharps' waste; eliminating the requirement for vaccine refrigeration; and reducing the need for adjuvants, which can play a role in triggering an immune response to a vaccine. Vaccine patches are convenient, and there is the potential for self-administration. Equitable access to vaccination for all people is a priority. There are various challenges in reaching people living in remote locations within Australia and in lower and middle-income countries where the refrigerated supply chain, sometimes called the 'cold chain', is all too easily broken. Vaccine patches represent a new delivery platform with the potential to revolutionise the way vaccines are delivered and administered, increasing equity for those who need it most.